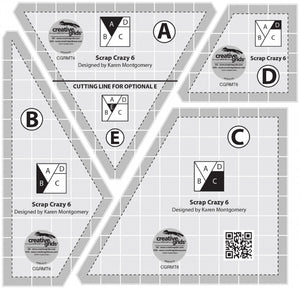 Creative Grids Scrap Crazy 6 Templates Quilt Ruler & Sparklers Pattern
Create 6 inch finished Scrap Crazy blocks with the four templates in this set. All of the pieces can be cut from those odd sized scraps in your stash or stack fabrics and cut multiples in a matter of minutes. The tips are trimmed when needed so the pieces sew together perfectly every time. Embellish the seams, if desired, with your favorite decorative stitches and threads. Make an entire quilt or sew them into a scrappy, decorative border.

The templates slide easily over the fabric until pressure is applied. Then, our exclusive gripper holds the fabric in place while cutting, eliminating slipping and miss-cuts! The template set comes with fully illustrated step by step instructions or scan the QR Code printed on the template to view a video demonstration. The template set comes in a resealable bag for easy storage.
Total Size - 6in x 9in

Creative Grids® products are made in the USA
Also Included is the Sparklers Pattern
This cutloose press pattern is in the form of a sturdy Sheet that is hole punched for a binder.
Need a quick baby gift that you can finish in an afternoon? Sparkler is it. By cutting the B template from the same fabrics, the yellow pinwheels create a secondary pattern when the blocks are sewn together. The blues and greens are cut from eighteen 10-squares so if you like the colors, you could make two baby quilts from one 40 pack of squares.

Since there are no sashings or borders, the quilt goes together very quickly. An added bonus? Since it measures 36-inches square, 1-1/4 yards of 42-inch-wide fabric works as a backing, no piecing required. Or use a 60-inch-wide plush backing to really make that baby smile!
36in x 36in.
The Creative Grids CGRMT6 is required.
Project Time: 2-6 Hours.
Fabric Type: Square Friendly.
---
We Also Recommend
---